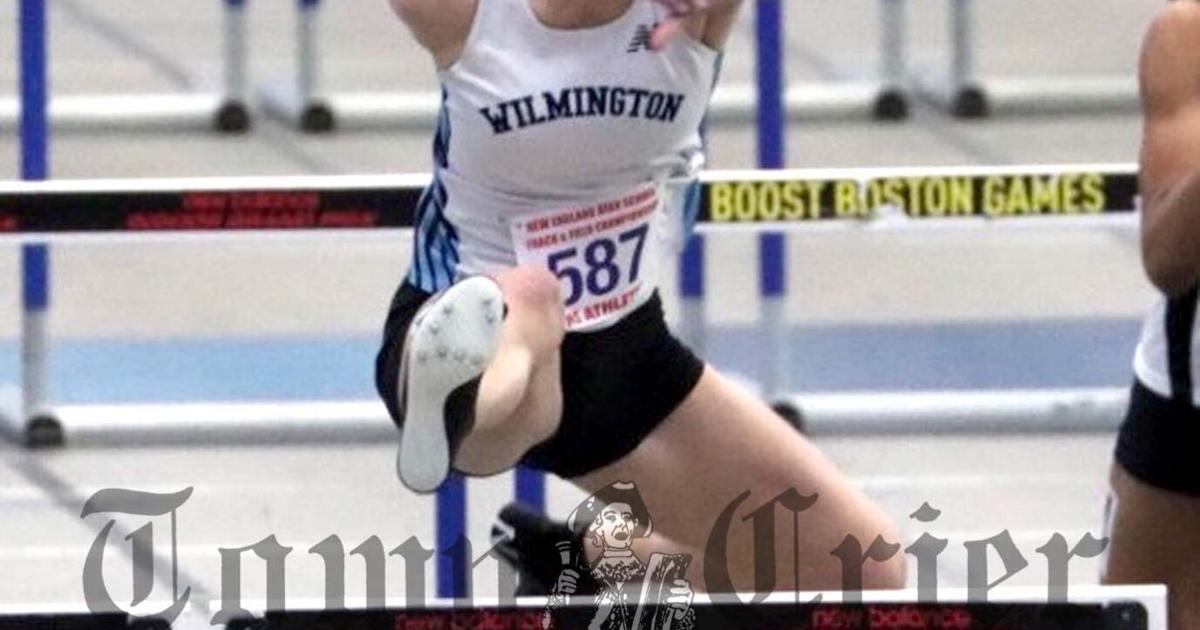 Breaking another hurdle: Senior Celia Kulis enters program history again; ranks second in New England in 55m hurdles | Sports
ROXBURY — This winter has been fascinating with women's sports at Wilmington High. On the one hand, you have the freshman co-op gymnastics team taking third place statewide, and on the other hand, you have a senior athlete, who, just in her second year of competing in track and field , becomes the second best hurdler in all of New England.
Week after week during those cold winter days, Celia Kulis continued to write new chapters in the Wildcat sport history books.
The senior tri-sport athlete and female Town Crier Athlete of the 2021 Calendar Year, finished second in the 55-meter hurdles, as well as 11th in the high jump, at the New England Championship track and field meet in Saturday morning held at the Reggie Lewis Center. She was clocked at 8.49 seconds in the hurdles, a personal best, and went 5-1 in the high jump. Her runner-up finish is the best of any female athlete in WHS track and field history and the best performance at New England since the boys' 4×400 relay team took first place in 1993.
Kulis is the first woman to compete in two events at New England, the first woman to place in two events at the All-State Meet and she again broke her own school record with that second time of 8.49.
Less than two years ago, the future Holy Cross track and field athlete saw her future with a field hockey stick in her hands.
"It's funny because I remember last year and the first time I saw her running I was like 'this girl is college stuff. She could be on a varsity track team," recalls interim head coach Joe Patrone. "Then talking to him she was like 'oh no, I'm going to college to play field hockey'. It took about a season and a half for her to change her mind and say that "the track is my thing now".
This 'runway thing' was pretty special for Kulis, who continues to show just how talented she is whether she's directed it or not.
"It really hasn't hit me yet," she replied when asked about her historic season. "It will definitely hit me later. It's so surreal as of today, but it feels like a great accomplishment. I know coming into this competition I was trying to place myself and be able to do it and prove that Wilmington (the athletes) can get here, even though we're a small town, it's great to know it can happen.
It happened to Kulis because of her hard work and determination. After finishing first in the league and Division 4 Eastern Mass Meet, Kulis followed that up with a fourth-place finish at the Meet of Champions Meet. For her, even placing at this competition was something she never expected, so qualifying for New England never seemed like a possibility.
"We looked at this week as kind of the icing on the cake – no pressure, it was good that we did this kind of thing and whatever happens, happens," Patrone said. "She was ranked seventh before the hurdles. She wanted to qualify and that was her goal, but our first goal was just to reach the final. She ran 8.51 in the preliminaries and actually won her heat. After it was over, she came up to me and said she wanted to be pushed more. There was a girl in the lane next to her from Connecticut and she was graded at 8.4-something, but she didn't run well.
"Celia had the fifth fastest time going into the final and she just had a really good run. She was in lane two which worried her a bit but she came out of the blocks well and she looked really good overall clearing every hurdle and she finished well I was at the finish line and knew she made it but it was hard for me to say where she made it .
Kulis said being in lane two was for the birds.
"Going into the preliminary race was good because I thought (the) girl (in the next lane) who had a higher start time than me (would push me), but obviously everyone has better days than the others. It was a bit stinky not being able to push anyone away," Kulis said. "Going to the final I was in lane two which is the worst lane to be in. You don't want to be on the outside lanes because it's harder because everyone who is faster is on the middle so it's hard to push out of anybody When you're on the outside wings you know you have the slowest times so you feel like you're always trying to catch up and you feel Alone.
In this last race, she was only trying to catch one athlete – the others were behind her.
"I just knew I had to get out fast, hold on and run my race and that's what I did," she said.
Once she was done, Kulis was extremely tired. As she caught her breath, she waited and waited for the results to appear on the board.
"It took a long time for the results to show up on the board and that's because she and the girl actually tied had the same time to the hundredths, so they had to go down to the thousandths to decide it, and that girl was the top seed in the competition," Patrone said. "Andover's (Jodi Parrott) girl won it and looked really good. Celia was so happy to go below 8.50 which she wanted and did with an 8.49.
When the results were finally posted on the board, Kulis was absolutely stunned when her name was listed in second place.
"At first I thought they screwed up. I knew I ran a good time, I just didn't know it was going to be the time I wanted. Honestly, it was all just surreal. I was happy and proud because this whole week was so stressful I was the only one coming here from my school, and I only had Coach Patrone and my parents here (for support), so it was really, really stressful to knowing I was alone I didn't have my friends to laugh or make jokes about so you feel all that pressure but (once it was over) it was all taken away from me and I was so proud.
His day was not over. After about a 45 minute break, she went to the high jump area. The starting height was 5-1, she cleared that and just missed the 5-3 clearance.
"My legs were like jelly. You're so exhausted. It's not just the race (part of it), and you don't just run one race, but you run two and I gave up all that last run because I just wanted to go under 8.50 seconds. My legs were just junk. I knew I just had to run and jump, and (I did 5 -1) on my third attempt," Kulis said.
Over the past month, Kulis has been in a number of great encounters – a lot of pressure moments. She said a big reason for her success was thanks to Patrone.
"Coach Patrone just made this whole season fun for me and I think that's the biggest part (of my success). There was a lot of pressure and I really couldn't focus on having fun," a- "Running those races with a carefree spirit and doing it just for me was better than trying to get a place, and that's all I cared about. It was (all for) having fun and doing what I want to do.
"I also have to thank (the boys') coach (Mike) Kinney, who makes us all laugh in training. Then Coach Patrone cheers us on every day in training as well as (Assistant) Coach (Don) Wilson and it's a great support system between the three of them. It was just for fun. Another reason is the girls on the team. We just want to be there together, be there for each other and all have fun. It was amazing because after I finished (the competition today) and all the girls texted me. It was just amazing to know that they were all watching and waiting to hear how I did.
What she did was historic – and now her magic season lasts for another week as she takes part in the New Balance High School National Championships being held this weekend in New York City. She will join teammate Mollie Osgood, while fellow teammate Amanda Broussard will attend the other national meet in Staten Island.
"I'm just going there for fun. It's amazing and such a great opportunity knowing that I even qualified for it. I'm just going to see what I can run. I'm going to compete against girls from all over the country, so it's amazing. I will meet new people, I will run another race, so it will be fun," she said.
While Kulis spoke at length about how great it is to be coached by Patrone, in a separate interview he returned the same words about New England's second-best hurdler.
"Celia had such a great season and she's come such a long way. It's great to work with and so easy to coach, such a coachable kid. She's doing what she has to do to get better. I think that she's going to have a really good college career, she's going to do well and I think it's a good program at Holy Cross.