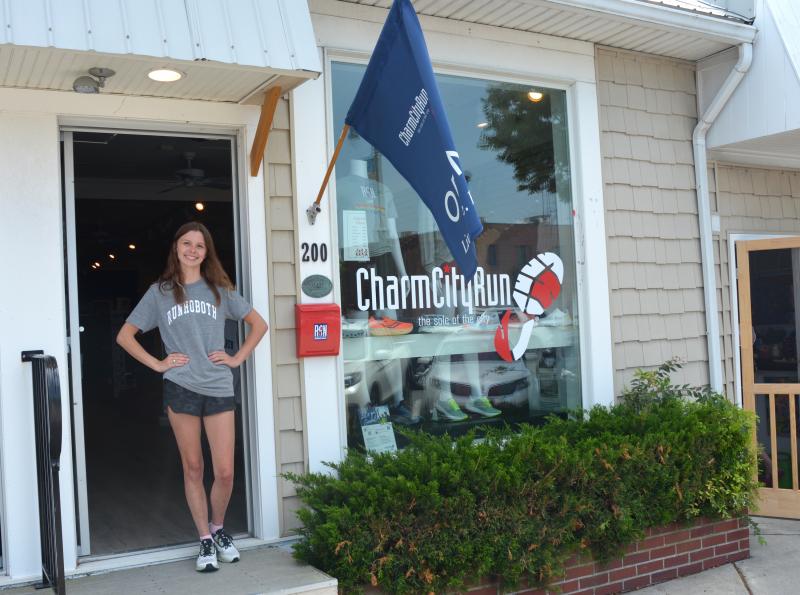 Charm City Run opens the first Del store. at Rehoboth Beach
Charm City Run, a Baltimore-based running and walking company, has opened its first Delaware store on Rehoboth Avenue in downtown Rehoboth Beach.
The store opened on July 8 and store manager Sydney Seth said it was busy. The opening process took longer than expected, but things went well, she said.
"It's been busy for sure," Seth said.
Seth said the company scoured the Delaware coastal area for the perfect location before choosing its first location near the beach. There was a place at Bethany, but it was too small for all the products, she said.
Rehoboth Beach has a well-known running community and it's exciting to be a part of it, Seth said.
Seth said the store has a wide selection of running shoes — New Balance, Saucony, Nike, Brooks, On Cloud — and other footwear — Okanui and Birkenstocks shoes and flip flops.
Charm City's goal, Seth said, is to provide customers with the right gear so their racing experience isn't painful. People come in with shoes bought off a rack or they'll have pushed too hard at first and then they'll hurt themselves, she said.
"We try to prevent that," Seth said. "People will show up and their shoes lack support. The point is to get people out, not to hate it.
In addition to the wide selection of shoes, Charm City offers clothes, energy bars and sweets, massage rollers, hats and sunglasses. The company also offers foot adjustments to ensure customers buy the right shoes, Seth said.
"It's a pretty detailed process," she says.
Seth's parents owned and operated their own running shoe store in downtown Annapolis for several years before it was sold to Charm City. Seth continued to work for the new company, and with her hands-on and osmotic experience running a retail store, she eventually became a Delaware manager due to her connection to the area – her mother has a house at Fenwick Island.
In the few weeks since opening, Seth said many customers have recognized the business because several are from Maryland. The company has seven stores in Maryland, she said.
Charm City is having a grand opening on Saturday, July 23, starting with a fun run at 8 a.m. The race will be followed by breakfast and drinks, and a ribbon cutting at 10 a.m. Product vendors will be on site. There will be raffles during the event, with customers getting one ticket for every $50 spent. There will also be a giveaway with a purchase of $150 or more, while supplies last.
Charm City is open 11 a.m. to 7 p.m., Monday through Saturday, and 12 p.m. to 6 p.m., Sunday.
For more information on Charm City Run Rehoboth Beach, 200A Rehoboth Ave., visit charmcityrun.com, call 302-278-7034, or email Seth at [email protected]