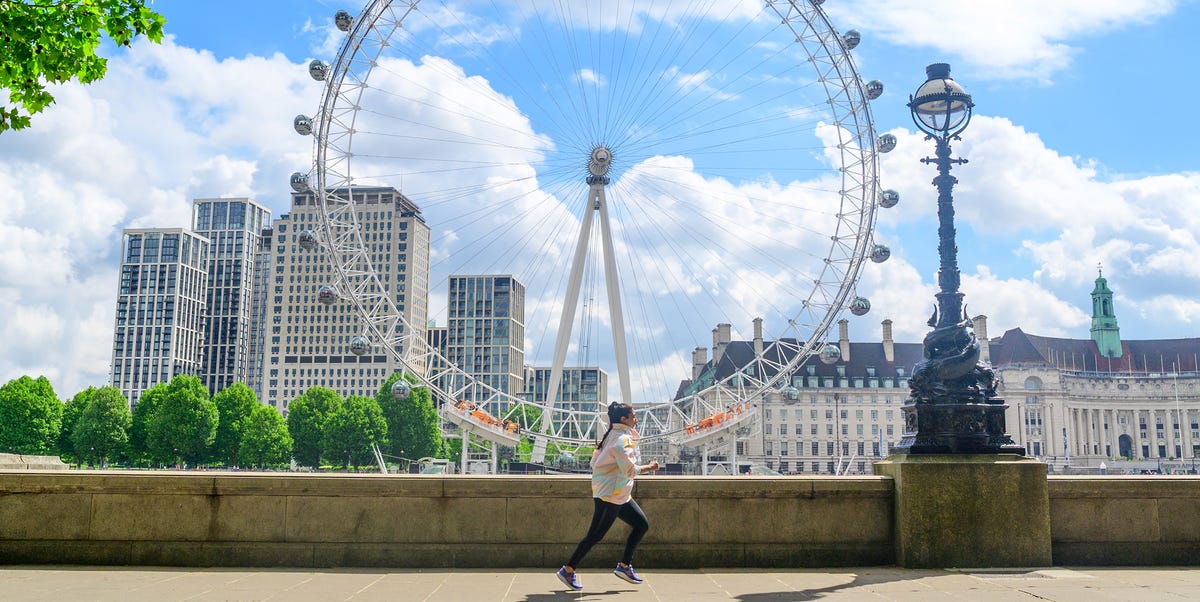 How the Race Focuses on Artist Harkiran Kalsi
Running is one of the most powerful tools for coping with the stresses of everyday life, working more productively, feeling better and realizing your own abilities. Running at base is not about finish lines or finish times. It is a personal movement that allows us to discover more about ourselves. In this series, in partnership with New Balance, we speak with three women who share their mental wellness journeys through running. In this edition, we hear from artist Harkiran Kalsi in his own words about how his races affect his work.
---
Immediately after a breakup, you wonder. Am I good enough? What is wrong with me? Could I have done something better or different? Through running I was able to crush that doubt and insecurity, I was out there every mile thinking: you're powerful, you've got this, you'll get over it.
For me, that's how running started, and I had no idea at first that it would be such a force in my life. But it transformed my mindset, my art, my advocacy, everything. In many ways, it saved me.
Go through the heartache
When I was around 23, I started running with my then boyfriend. It ran regularly and I joined it a few times, then I had a little bug because it's fun. When we broke up, running became completely different and I didn't know if I was going to continue. My mother gave me advice. She said, "Okay, you have a heartbreaking moment, but get out there and go for a run, because I've noticed a really positive change in you when you do."
That's when I started to realize how it made me feel. I was going on a four mile loop near my home and just crying and thinking about life and what was happening to me. I felt like I was getting stronger, both physically and mentally, and that inspired me to keep going and start understanding how it impacted every aspect of my life. The breakup was a loss, but it was also a huge opportunity to feel empowered. Realizing how important running can be was a pivotal moment in my life.
Find my feed
I also started noticing how much it affected me as an artist. I know a lot of people who find inspiration when they run, but it's not like that with me. Instead, running gives me clarity so that when I return, it's with a new perspective. I have space and freedom to create and flow in my work.
I use running as a way to detach myself from art, which is extremely important. I've been drawing since I was a child, my whole life has been dedicated to creating art, but I also want to maintain that love, to have longevity as an artist, and sometimes that requires changing direction. Running gives me another passion so I don't just dedicate every minute of every day to my art.
It also helps me to let go of the ego. It's a major aspect of racing for me, it keeps me humble. I've always had a natural ability when it comes to art. I can just start creating and I can't think too much because if I let my ego get into it, if I start thinking about it too much, it stifles the creative flow.
Running promotes this balance – it frees up this space to allow me to flow naturally into what I want to create. I love what I do, with all my heart; I can't imagine not being an artist.
Educate women about running
Another major goal for me, especially in recent years, has been to advocate for the empowerment of women. In many ways, my art is that message. This is me asking: how can we as women support each other? How can we encourage each other to feel empowered? So not only does my art elevate me, but I also want it to elevate others. It gives me the ability to channel that feeling and spread it out into the world.
I come from a South Asian background; women are expected to fulfill a certain role, including marriage and children. My mother was a single mother who came to the UK in an ugly arranged marriage and she somehow navigated this foreign system to fend for herself and raise three children.
Thanks to her, I grew up being very independent and creating my own life, rather than trying to adhere to these societal norms. I'm so grateful for the power she put in me and what she taught me, and I want to bring that to others. I want to find a way to stand up for girls so they feel like they have a voice and can develop the courage to do what they want with their lives. If I can help even one person, that's enough. That's all we should aim to do, just help one person.
Combine art and running
About a year ago, New Balance reached out to me because they were building a collective of female athletes around the world who are championing causes. It was amazing to have this space to show off for each other. The group is called Stolen Starts.
I was asked to design the kits that each Starts member would wear during marathons. I was so excited because I always wanted to design a racing kit. I made them bold, bright, the same way I create my art. The design has hills, rain, and lightning, and it's all about the challenges we face when we're there.
At this point, I've been running for 14 years, and even though my reasons now are very different from when I started, the feeling I have is still the same. I'm powerful, I'm always going strong, and I won't give up on myself. It gave me a voice, and I will use it as much as possible.
This content is created and maintained by a third party, and uploaded to this page to help users provide their email addresses. You may be able to find more information about this and similar content on piano.io