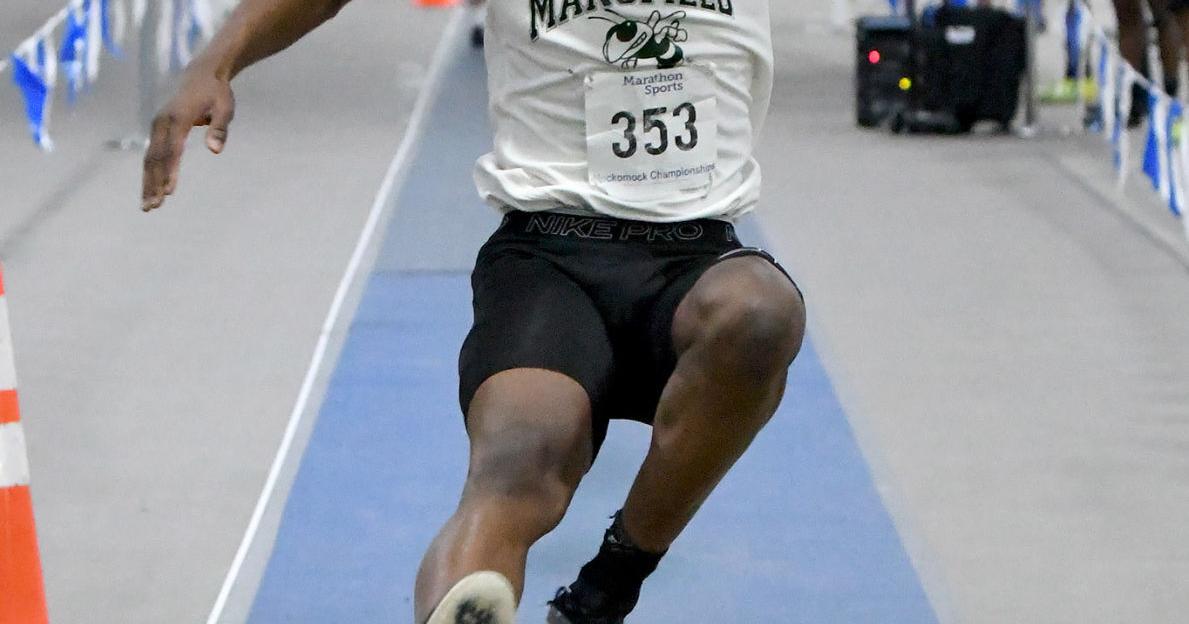 HS TRACK AND FIELD: Mansfield's Wall crowned state long jump champion | local sports
WESTFIELD — Westfield State University hosted the final day of the Champions Meet this weekend, with some area competitors closing the book on their season and career on Saturday's second day of events.
Notably on day two was Jake Wall's gold-medal performance, winning his third career state title in the long jump for Mansfield.
Wall's 23-02 1/4 jump was the best of the show, while teammate Chamberlain Guthrie Jr. closed the season with a 21-06 3/4 quality distance for ninth place.
The Hornets continued to thrive in the long jump, with Anna Buckley breaking Mansfield High School's distance record. His 18-01 jump earned him a sixth-place finish and a berth at the New England Championships next weekend in New Britain, CT. Elsewhere on the court, a personal best in the women's shot put was set by Caitlin Garrahy, throwing a distance of 33-10 for 19th place.
Elsewhere on the pitch, Mansfield finished second in the javelin, with Caitlin Dumouchel's busy day seeing her throw the spear 127-0. Dumouchel then raced with Katie Miller, Anna Darlington and Norah Puleo in the 4×400 which took eighth place in 4:06.73.
Mansfield's boys' and girls' 4×100 teams met in the final of the Meet the Champions, with the girls clocking 50.10 for an eighth-place medal. Abby Scott, Meghan Driscoll, Danni Cuzzi and Chloe Guthrie set the best time of the season in the race. Myles Brown, Isaiah Kings, Chamberlain Guthrie Jr. and Nate Kablik clocked 44.10 for the 11th fastest time in the men's 4×100 final.
In the individual track events, Anna Darlington finished 13th in the girls' 400 meters in 59.23 and Dylan Buchanan clocked 15.87 in the boys' 110 meters hurdles for 19th place. Chloe Guthrie and Abby Scott both competed in the girls' 100 metres, again winning back-to-back spots with times of 12.69 and 12.70, respectively.
Bishop Feehan's rising star at Brooke Serak capped a memorable freshman season as the top shot put freshman for Massachusetts State, placing eighth of 24 with a best throw of 38-00 . She was joined on day two of the Champions Meet by Jon Mignacca, who tied for ninth in the high jump with six others. He erased 6-00, falling just short of his 6-02 lead mark, which he couldn't erase on his three tries.
Joining Mignacca in the high jump was King Philip's Dylan Woods and North Attleboro's Nathan Shultz, who both went 6-00 but each on their second down. As it was their second attempt, the two tied for 16th place. Like Mignacca, the two failed to go past 6-02 on their three attempts.
North Attleboro's best result came from Brodie Clemente in the shot put, who ranked third in the state in a 52-02 3/4 draw to earn him a spot in the open championship meet. air from New England next week in New Britain, CT. Mark Etienvre also competed in the shot put, placing 18th with a throw of 47-04. Abby Camelio was the only girl from North Attleboro to compete on day two, closing her season with a 106-04 javelin throw for 15th place.
Two Attleboro throwers competed in the javelin, with Elayna Marinelli competing alongside Camelio in the women's event. Marinelli's 116-06 throw earned him an eighth-place medal, as well as a personal best. On the boys side for the Bombardiers, Ethan Gattoni earned a fourth-place finish throwing 172-01 in the javelin to advance to the New England Outdoor Championship.
Foxboro's Grace Preston was also in the javelin throw, placing 19th out of 23 competitors with a 101-07 draw.
Norton had a quality finish to the season competing between schools in Massachusetts and will continue to be represented for at least one more week on a big stage. Ali Murphy's second-place finish in the 400 meters not only earned him a medal, but also broke his own school record of 55.74 and earned him a spot in the New Balance National Outdoor Meet. Jill Strynar also qualified for the New Balance meet, advancing to the 100-meter final at 12.33 to qualify her for the Rising Stars division. She placed eighth.
Norton's Zoe Stantos qualified for the high jump but did not clear the opening height and did not place.
Tyler Hetu can be reached at 508-236-0375 or on Twitter @thetylerhetu.