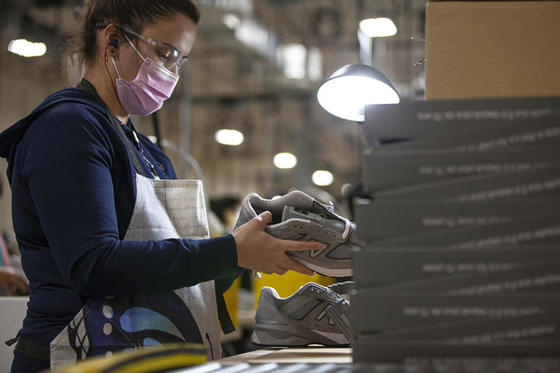 New Balance invests $20 million in fifth New England factory
Welcome to Thomas Insights – every day we post the latest news and analysis to keep our readers up to date with what's happening in the industry. Sign up here to get the day's top stories straight to your inbox.
Footwear company New Balance has officially opened its new manufacturing facility in northeast Massachusetts, state and company officials said.
The Boston-based shoe and apparel maker invested $20 million to renovate a building in Methuen, Mass., and began production at the site earlier this year. Company officials said the factory reflects "New Balance's commitment to American manufacturing" and that lean processes, innovation and improved machinery would enable a responsive U.S.-based supply chain. .
Over 90 people currently work at the Methuen factory producing the MADE 990v5 running shoe; the company expects to more than double its workforce and production by the end of the year.
"Our associates have proven that high-quality athletic footwear can be produced in the United States," New Balance President and CEO Joe Preston said in a statement. "Their skilled craftsmanship and dedication to continuous improvement will help us meet our significant US and global consumer demand and drive the continued growth of our business."
The new facility is the company's fifth across Massachusetts and Maine. State officials have called the company the foundational business of the Massachusetts economy.
"Our administration is proud to partner with New Balance to promote economic growth and create more manufacturing job opportunities in the region," Massachusetts Governor Charlie Barker said in the announcement.
Image Credit: New Balance
Semiconductor supplier creates 120 jobs in $88 million expansion
Next story »
More trade and industry