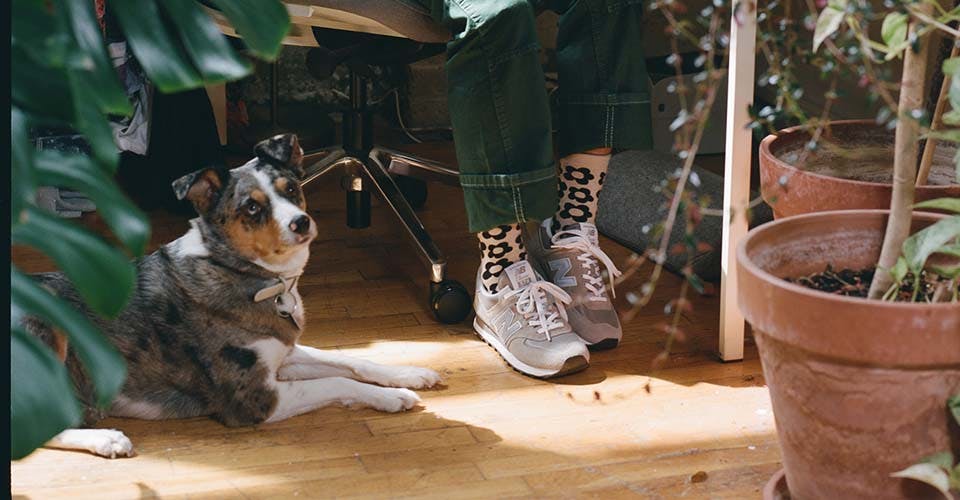 New Balance's 574 Core and Jess Tran Go for Conscious Drip
New Balance's 574 Core leads the way in durable sneakers under its latest green leaf standard. Constructed with an upper made from 50% or more recycled content, leather that supports more responsible manufacturing through the Leather Task Force, and outsole material that contains 5% recycled content, these kicks are the perfect match (both aesthetically and consciously) for everyone. of your eco-responsible cuts.
Jess Tran tells us how to consume more consciously in the fashion industry. Tran is not only the founder of Brooklyn-based marketing company Scallion Pancake, but also works closely with vintage and second-hand shops, Second-Life Marketplace and The Consistency Project.
Tell us how you first became interested in vintage fashion.
Vintage was just shopping in Sydney, and there was a Salvation Army down the street from where I lived. I went there when I felt there wasn't much else to do. The experience of looking for things and not really knowing what you're looking for even gives you the opportunity to switch off a bit. I loved bringing home something that didn't look like me, but belonged to a me that I could try out in the meantime. It was expressive, creative and fun. It kind of carried me through my adult life – the only difference now is that I have more disposable income and better taste.
How has working closely with thrift stores inspired you to change other parts of your life around sustainability?
Looking at your eating habits is a bit of a foundational habit, like how discipline and the measurable improvement aspect of physical activity can have positive effects on other aspects of your life. Buying second-hand clothes has got me interested and passionate about thinking about where my clothes come from, which carries over to the rest of my consumer habits and lifestyle decisions.
What's your favorite sustainability hack?
I don't think there are really any hacks. It's about making choices with intention, but I have a nice compost bin and I'm so excited to cycle everywhere this summer! Also, I'm trying to get more community volunteer opportunities, preferably outside somewhere.
What are some sustainability-focused mantras that you live by?
Something is better than nothing! Worrying about these things doesn't necessarily mean I'm neurotic ⁠— maybe I care a lot about the planet and try to live with as much intention as possible!
How do initiatives like the New Balance Green Leaf Standard help you stay true to this mantra?
Seeing more brands incorporate recycled materials is really encouraging, but honestly, I love that they're ultra-comfortable. I'm shocked how much my feet love them.
What aspect of saving are most people wrong about?
You can't find anything. I think it just takes a bit of perseverance, and enjoying the process helps too. I find it so meditative and peaceful.
How has saving initiated a greater sense of balance in your life?
it slows me down! I don't often find vintage/spare things that I like, and in fact I really try to cut back. I want to look at my drinking habits holistically and make sure I'm only adding things to my life that I absolutely love.
What's the best advice you can give to someone who's just starting to thrift their clothes or want to shop in a more eco-friendly way?
Continue! Connect with local community organizations where you can keep your energy up by interacting with other people like you. And probably continue to learn things, like for the rest of life.