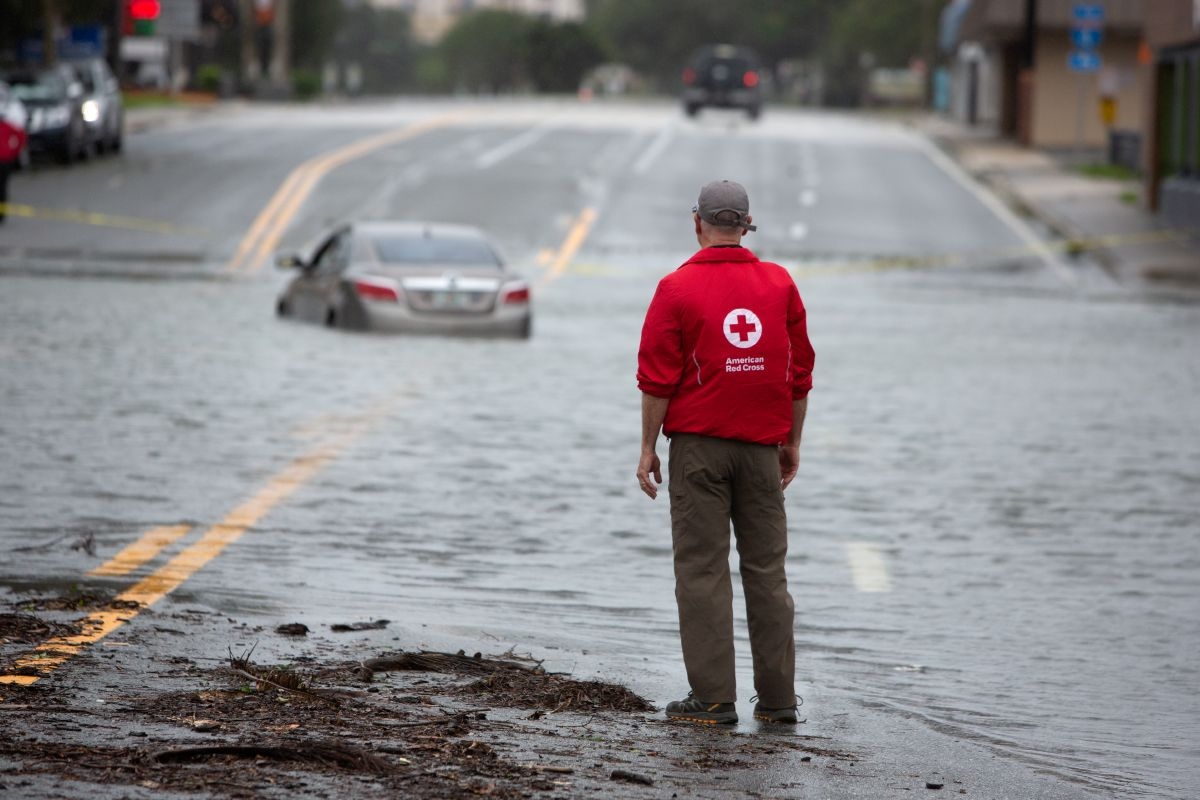 The Red Cross helps survivors of Ian
Our hearts go out to the tens of thousands of people affected by Hurricane Ian. The American Red Cross and its partners are working tirelessly to comfort and support those dealing with the devastation left by Hurricane Ian.
A disaster that devastates critical infrastructure across a large geographic area filled with people requires a team effort. The Red Cross is working closely with local authorities, government agencies and other non-profit organizations to ensure people get the help they need as quickly as possible.
People face appalling conditions. Many have lost everything and have no electricity or water. The high waters have trapped thousands of people and first responders are still carrying out search and rescue operations. More than 1.7 customers remain without power in the Southeast, most of them in Florida where more than 1.2 are without power. River flooding will continue through next week in central Florida.
RED CROSS RESPONSE The Red Cross has opened shelters in Florida, South Carolina and North Carolina to provide people with a safe place to stay. On Friday evening, at least 3,700 people sought refuge in no fewer than 50 Red Cross and partner shelters across the three states. The overwhelming majority of shelter residents are in Florida.
Some 1,300 trained Red Cross disaster relief workers are working closely with our partners to open shelters closer to the hardest hit areas as quickly as possible. As new shelters open and can provide more robust services, others will close. Our goal is to make this transition as smooth as possible for people who need help.
Anyone affected by the storm is urged to stop at a shelter to get information, a hot meal, recharge their phone, pick up relief supplies, and get help replacing prescription medications, eyeglasses or glasses. essential medical equipment such as canes and wheelchairs. We also have mental health disaster workers available to help people cope during this difficult time.
Dozens of Red Cross emergency response vehicles are driving around Florida in some of the hardest hit areas, delivering tens of thousands of ready-to-eat meals and cleanup supplies where it's safe to do so. . We will reach more neighborhoods every day as the roads become passable.
HOW TO FIND HELP Be careful, listen to the advice of emergency officials, and don't go home until it's safe to do so. In some areas, snakes and alligators have been spotted in the floodwaters. If you need help, contact trained professionals by calling 911. If you need a safe place to stay, find open shelters on redcross.org, the free Red Cross emergency app or by calling 1-800-RED CROSS (800-733-2767) and selecting the disaster option. You can also find shelters by following local authorities in your county and city on social media or by monitoring local news.
In Florida, call the State Assistance Information Line at 1-800-342-3557 or visit floridadisaster.org. In South Carolina, go to scemd.org. And in Georgia, visit gema.georgia.gov. In Florida, please report your loved ones missing at Missing.FL.gov. And report yourself, or your loved ones, as found and safe on Safe.FL.gov.
COME TO THE SHELTER Everyone is welcome in our shelters. All disaster assistance is free and we don't require people to show ID to enter a shelter – just their name and where they lived before the disaster.
To help keep people healthy, everyone in Red Cross shelters is required to wear face masks.
People planning to stay at a Red Cross shelter should bring prescription medication, extra clothing, pillows, blankets, hygiene supplies, other comfort items, and important documents. Don't forget to bring special items for children, such as diapers, formula, and toys, or for family members with special needs.
Our workers will do everything possible to comfortably accommodate service animals and pets. If you are going to a shelter, please bring your own animal cage, supplies, medications, and food whenever possible. Depending on the situation, pets may need to be housed in a different location with the support of animal welfare groups. Please consider visiting redrover.org/hurricaneian for additional pet resources and other tips.
YOU CAN HELP people affected by Hurricane Ian by visiting redcross.org, calling 1-800-RED CROSS, or texting the word IAN to 90999 to donate $10. Your donation is a commitment to help those in need, and every donation counts. Financial donations allow the Red Cross to prepare, intervene and help people recover from this disaster.
PLEASE GIVE BLOOD As remnants of Hurricane Ian move inland, hazardous weather and flooding have canceled dozens of blood drives and nearly 1,000 blood and platelet donations have not been collected . We anticipate that fewer donors will come to donate at collections in and around the affected areas due to the prevailing conditions there. People in unaffected areas of the country – especially those with type O blood types – are urged to donate blood now to help ensure that patients in affected areas continue to have access to life-saving blood. Please schedule an appointment to donate blood today using the Red Cross Blood Donor app, visiting RedCrossBlood.org or calling 1-800-RED CROSS (1-800-733-2767). Learn more here.
COMPANIES AND ORGANIZATIONS HELP Generous donations from members of the annual Red Cross Disaster Giving Program (ADGP) and Disaster Response Program enable the American Red Cross to prepare communities for disasters, large and small, to intervene whenever a disaster strikes and to help families through the recovery process.
Million Dollar ADGP Members:
Amazon; American Airlines; Anheuser-Busch Foundation; Bank of America; Best buy; Caterpillar Foundation; The Church of Jesus Christ of Latter-day Saints; Wholesale Costco; Delta Airlines; Elevance Health Foundation; Enterprise Rent-A-Car Foundation; FedEx; Lilly Endowment Inc.; Lowe's Companies, Inc.; McDonald's Corporation; Microsoft Corp. ; National Foundation; PayPal; PetSmart charities; The Starbucks Foundation; State Farm; Takeda Pharmaceutical Company Limited; Truist Foundation; VSP Vision; Walmart and the Walmart Foundation; and Wells Fargo.
$500,000 ADGP Members:
Altria Group; American Express; Aon; Bread Financial; Calmoseptine, Inc.; Capital 1; CarMax; Citi Foundation; The Clorox Company; Darden Foundation; Delta Dental; general dollar; Edison International; Energy Transfer/Sunoco Foundation; Ford Motor Company Fund; Fox Company; General Motors; Google.org The Home Depot Foundation; International Paper; The JM Smucker Company; Johnson Controls Foundation; The Kroger Co. Foundation; Mutual freedom of insurance; Lockheed Martin Company; MasterCard; Merck; Mondelēz International Foundation; New Balance Foundation; Organon; PepsiCo Foundation; selling power ; Southeastern Grocers Gives Foundation & Southeastern Grocers, home of Fresco y Más, Harveys Supermarket and Winn-Dixie; Stanley Black & Decker; Target; The companies TJX, Inc.; Toyota; United Airlines; UPS; USAA; Visa Foundation; The Walt Disney Company; and the Wawa Foundation.
ADGP Members $250,000:
7-Eleven Cares Foundation; Adobe; The AES company; Ameriprise Financial; Assuring; AT&T; AvalonBay Communities, Inc.; Avangrid Foundation; Barclays; Big 5 Sporting Goods; CDW; Choice Hotels International; Cisco Foundation; NAC insurance; The Coca-Cola Company; CSX; The DICK'S Sporting Goods Foundation; Discover; Duke Energy; Dutch Bros Foundation; Fair; FirstEnergy Corporation; Gopuff; Port Freight Tools Foundation, LLC; HCA Health; Hewlett Packard Corporate Foundation; HP Foundation; Kaiser Permanente; Kimberly-Clark Corporation; The Kraft Heinz Company Foundation; The Labcorp Charitable Foundation; Lenovo Foundation; LHC Group; Major League Baseball; Marathon Petroleum Foundation, Inc.; Martin Marietta; Mattress company; McKesson Foundation; MetLife Foundation; Neiman Marcus Group; NextEra Energy, Inc.; Northrop Grumman; Northwest Mutual; Former Dominion Freight Line; Pacific Life Foundation; Procter & Gamble; Prudential; Raytheon Technologies; Reckitt; Rodan + Fields Prescription for Change Project, a New Venture Fund project; Ross Stores Foundation; Ryder System, Inc.; San Manuel Mission Band of Indians; the Lending Hand Foundation of Security Finance; ServiceNow; South West Airlines; Tata Consulting Services; U-Haul International; American Bank Foundation; and Zurich.