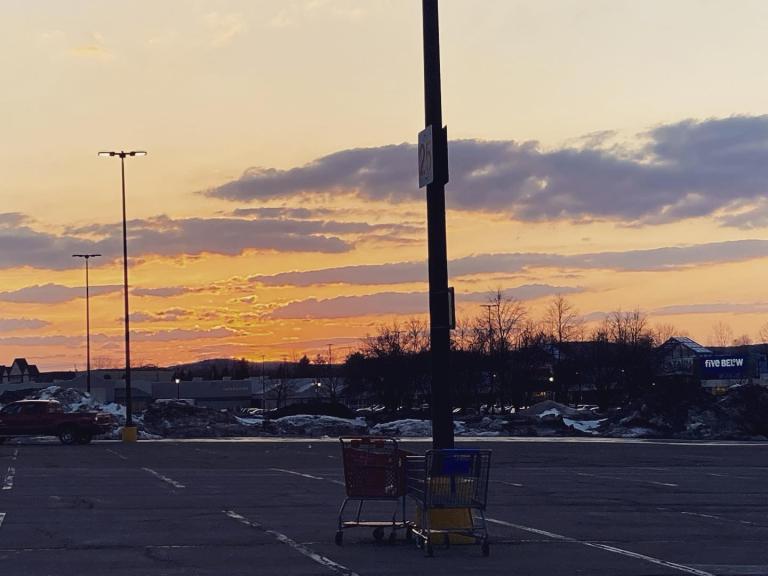 There should be a day off
It's still morning! I can totally think of something to blog in ten minutes. I have to say that I am overwhelmed with all the news. Yesterday, between all the real life tasks, I scrolled through outrage at various remarkable things among all kinds of people. There was the Christianity stuff today. And the surrogacy stuff with her name and person. And then Ukraine, of course, and what else? All the controversy about this Red Panda movie. And like fifteen other things. And I haven't even spent that many minutes on Twitter. So this is all very bad, but you know what really bothers me? The fact that postal workers have to work such long hours and that people who work at the DMV are allowed to wear leggings.
If you're looking for something to get angry about – especially angry on other people's behalf – this fits the bill perfectly. It is a complaint about the degradation of our life together into two parts.
Part One: The DMV
Our second child finally has a driver's license. It only took years because first there was covid and then I lost all the kids social security cards. And because of covid, I couldn't get into the social security office to replace the cards, and I was extremely scared to put my driver's license in an envelope and mail it to you (see here below), and so I just did nothing for a long time. But eventually I was able to walk into the Social Security Administration building for a brief moment and submit everything in person – a brief moment where the lights kept going out because they were detected by motion and that there weren't enough people in the room to keep them at. Each time they left, the poor security guard would trudge up, wander around the middle of the empty room, wave his arms until they lit up again, then resume his place. I felt like I was caught in the twilight, the hemline, the zone, because seriously that's what it was.
Anyway, I finally got the cards, but the boy failed the online permit test twice. And then he passed it. And then we went to our DMV appointment, but I hadn't brought all the papers I had downloaded because I hadn't seen the big banner at the top of the website saying I had to bring them all, foolishly thinking that the two days it took to upload the documents meant the DMV had them – they didn't. My son and I were told this painful truth in a brusque, miffed and slightly belligerent tone by a masked young woman with blonde hair wearing tight leggings, a baggy t-shirt and a pair of tennis shoes. At first I was confused and thought someone online had taken on the task of telling everyone what to do, but slowly realized that she was actually an employee of the Department of Motor Vehicles.
Our local DMV shares space with the bus station – Gray Hound and Shortline buses pass, and the gate to the bus waiting area is the same as the DMV. Everyone — and this is Binghamton, if you know what I mean — pretty much looks alike here, so it's not really a big deal. I was wearing ugly shoes and a gray sweater because in Rome try not to stand out too much. But still, a deep, primitive part of me was ticked off that if the government was going to yell at me for being wrong, at least the government should be wearing cheap, faded casual clothes. And for real, two years ago the government wore this, but since covid, no one cares anymore.
The second part: no days off
And that's also my problem with the postal service. It's not like we're determined to get our mail here in a timely manner. If our packages go missing, we don't complain because we know there's no point. But how come the people who deliver the mail have to work every day of the week? And why do they look so beleaguered, in jeans dragging faded, brittle mailbags? And why do they have to deliver the mail after five o'clock? These people, like the DMV, should have 9-5 jobs. They should be provided with a comfortable but attractive uniform that shows the community that they have the authority to deliver the mail. They shouldn't look so exhausted. They shouldn't have to work late hours.
I mean, most of our local mail deliverers are happy with their job. But when I meet them on Sundays, I curse the darkness smiling and saying hello. Look, if we want to get rid of Sunday as a national "rest" day and make it a Friday or a Saturday, or – when do Buddhists take a personal day? I don't care what day, but the whole nation should have one where we don't play sports and we don't get mail.
Not having a day off and not having a nice uniform to indicate vested authority are just two of the little ways you know everything is awful. Does that make me a "Christian nationalist"? Never. I said I didn't even care for the day anymore. But the furrowed, angry brow, the exhaustion, the late hours, the terrible clothes, these are all markers of how much everything sucks, and how some bad people try to separate us from each other. We don't need to be divided in this way. We could have a common civic life where we were kindly and sweetly at odds with each other, but still share something in common…like no mail on Sundays, I mean Wednesdays or Fridays or whatever. I mean, I know we can't have this, so save this is a lament. That's a big deal right now, isn't it? I mourn the death of beautiful things.
And now the morning is really over and so my blogging time is up.