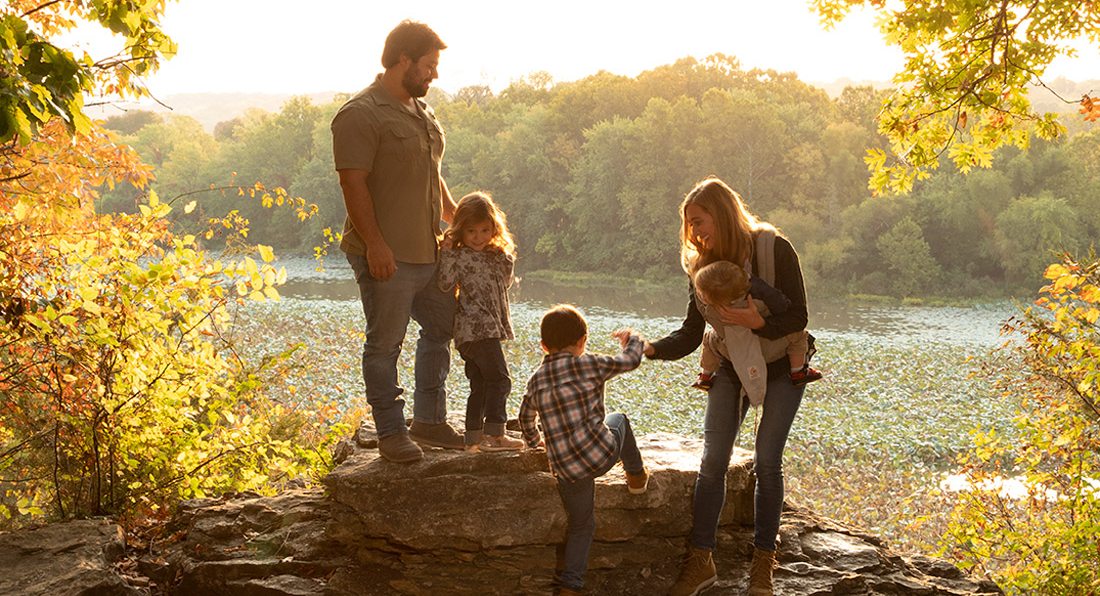 Where to Stroll by the Water in Southwest Missouri
Valley Watermill Trail
2400 E. Valley Water Mill Road, Springfield; 417-866-1127
Find peaceful contentment on this 1.5-mile trail that loops around Valley Water Mill, which is reserved for fishing and walking. Unoccupied water allows you to listen to the water splashing the shores and the birds chirping around you as you explore the clearings, cliffs, and stream beds this trail offers. Find places to relax, like the fishing piers and boardwalk, and places to explore, like side trails through the 12-acre lake with hidden gems like streams, springs, caves, and sinkholes .
Fellows Lake Trail
4200 E. Farm Rd 66, Springfield; 417-840-2965
Fellows Lake offers miles of natural surface trails that are open from dawn to dusk. You're sure to get your feet wet with over 20 miles of interconnected trails, but you can also find plenty of opportunities for fun off the beaten path. Leaving the path, you head to rocky beaches along the shore where you 'shore' to find lots of driftwood, seashells and unique rocks. With Fellows Lake Marina's pavilions, playgrounds, and ice cream cones, you won't get bored hiking these trails.
Springfield Lake Park Trail
5324 S. Kissick Ave, Springfield; 417-891-1550
Escape to the woods surrounding Lake Springfield for a break from the beating sun above our heads. In the middle of the trees, you can cool off in the shade and discover a breathtaking view of the lake. With a wide variety of trails for whatever you're looking to do, whether it's biking, running, or just strolling around until you find a nice place to sit and think, there's something for everyone. tastes. The best part of the trail is at the highest point overlooking all of Lake Springfield.
Drummund Lake Trail
2400 S. Scenic Ave, Springfield; 417-891-1515
This place is perfect for strolling; if you're looking for a more landscaped area, not so deep in the woods, the Nathanael Greene Close Memorial Park Trail around Lake Drummund is for you. You can find as many wildlife and plants as on the other trails, but with paved trails, be sure to keep your tennis shoes clean. The 0.7 mile trail loops around the lake and features hidden gardens and places to stop and reflect along the way. The water serves as the perfect backdrop for a peaceful stroll.